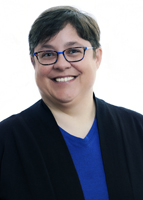 Aubrey Harmon, MA (they/them)
Aubrey received an M.A. in Psychology at the New College of California. Their work as a grief counselor for Visiting Nurses & Hospice, and as a chaplain, helped them gain a deeper perspective on helping others in the midst of sadness and tragedy and a sharp appreciation for the transitory nature of life. They also worked as a counselor  at The East Bay Agency for Children's Circle of Care program where they acquired skills at counseling children with a variety of experiences of loss.
Aubrey specializes in working with children and adolescents who are dealing with grief, loss, anxiety, depression, gender/sexuality, and those who are neurodivergent. In addition, they thoroughly enjoy working with parents who are enduring challenges that come along with parenthood, as well as working with individuals who are going through a career transition.
Aubrey works from a belief in the intrinsic wholeness of their coaching clients. In alignment with this, they work in collaboration with clients to compassionately investigate where clients are feeling stuck, guide them to accessing their innate wisdom, and work together to remove obstacles to living the life they envision. When working with children, Aubrey brings a variety of meaningful tools into each session, giving children a safe space to speak openly and feel secure.
In their free time, Aubrey can be found roaming the hills of Marin with their kids and  dogs, reading on the beach, or attempting to wrestle the latest draft of their novel into  submission at the coffee shop.