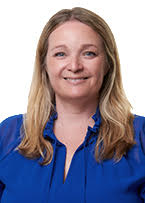 Stacey Kamp, AMFT (she/her)
Stacey Kamp holds dual certification as an Associate Marriage and Family Therapist and Associate Licensed Professional Clinical Counselor. She received her Bachelor's and Master's degrees in Psychology from Dominican University.  Stacey approaches life with a calm positivity, believing every client has a unique journey, and seeks to work with them where they are on that journey . Her empathetic and compassionate nature allows clients to feel comfortable opening up about the root of their concerns. 
Stacey is a skilled therapist trained in Psychodynamic and Cognitive Behavioral (CBT) orientations. In creative collaboration with her clients, Stacey uses CBT to manage various anxieties that arise in their life, helping them discover their path forward, leading to happier and more fulfilling lives. As a lifelong artist who finds the process of painting very meditative, Stacey loves being able to use art to help others, and finds great satisfaction in being able to share her passion for creativity.  It is because of this love for art that Stacey is currently enrolled in a post-Masters Art Therapy program, working towards her Ph.D. in Art Therapy. 
Using her diverse toolbox of techniques, Stacey has helped many clients find relief from nervous suffering. She has a passion for helping people overcome their anxieties and firmly believes that anyone can do it with the right help. Stacey has experience working with clients of all ages, including youth and adults. Most recently, Stacey has worked in community mental health, and as a counselor at a local Middle School, where she supported clients with challenges in self-esteem, anxiety, and bullying. She has also completed training in treating eating disorders. 
Stacey is a warm and caring person who believes in the power of therapy to help people improve their lives. She is passionate about her work and committed to helping her clients reach their full potential.  In her spare time Stacey enjoys cooking, gardening, painting and exploring the beautiful hills of Marin.