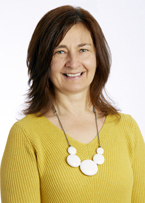 Agnes Miklos-Illes, LMFT (she/her)
Agnes loves working with young children, school-age children, adolescents and their families. Agnes also enjoys working with adults, supporting them in different stages of their lives. She believes that every client is unique and so is their journey to a fulfilling life. Using a strengths-based approach, Agnes creates a safe, nurturing and warm environment for her clients to express feelings, address concerns, explore solutions and awaken their resiliency to deal with life's challenges. Agnes is creative and playful, appreciates humor and is passionate about her work.
In her practice with younger children Agnes utilizes attachment therapy, play therapy, parent-child interaction therapy and drama therapy. In her work with adolescents as well as in her family therapy sessions Agnes relies on cognitive behavioral therapy, solution focused therapy, and narrative therapy. 
Agnes finds that closely working with caregivers of children and teens is a crucial component of the therapeutic process. So, in addition to family therapy, she also offers parent coaching to address new developmental challenges and issues of co-parenting. 
Agnes has more than a decade of experience working with children, adolescents and their families first as a teacher, and the last four years as a therapist. She did therapy at a preschool and an elementary school in Albany, and most recently she was the therapist of the Counseling Enriched Program at Alameda High School. With her clients she worked on anxiety, depression, loss, social anxiety, trauma, learning disorders, behavioral issues, and impacts of divorce. Agnes also has experience working with teens with autism spectrum disorder as well as adolescents from the LGBTQ+A community. Agnes has worked with adults on anxiety, trauma, depression, life transitions, divorce and relationship issues using solution focused, narrative, cognitive behavioral and psychodynamic theories.
Agnes earned her M.A. in Counseling Psychology from The Wright Institute in Berkeley. She is trilingual, offering therapy sessions in English, German and Hungarian.
In her free time Agnes enjoys playing the piano, hiking with her family and friends, and running the trails of the Bay Area hills.
.