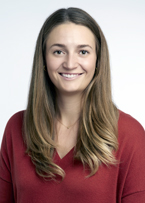 Ali Pietrykowski is an Associate Marriage and Family Therapist who is empathic, passionate and dedicated to serving the needs of her clients. Ali's practice focuses on client-centered therapy, allowing each individual she works with to advocate for their own needs and goals. Her approach with clients is to work collaboratively, relying on a strengths-based approach that creates space for each client's unique interests and passions to become a source of resilience. 
Ali has worked with children, adolescents and young adults throughout her career and has gained experience in school based settings, working closely with teachers and parents to support her clients. Ali received her Masters of Arts in Counseling Psychology with a focus on Marriage and Family Therapy from the University of San Francisco, during which she interned with the YMCA of San Francisco as well as Daly City Partnership working as a school counselor. These internships allowed Ali to work with children and adolescents from diverse backgrounds dealing with issues ranging from anxiety and depression to post traumatic stress and adjustment disorders. Prior to her masters program, Ali received her B.S. in Psychology (with a second major in Women and Gender Studies as well as a minor in Public Health) from Santa Clara University. There she worked as a peer advisor helping fellow Psychology majors with academic planning and the challenges that come with rigorous coursework.
Ali has experience working with younger children through child-centered play therapy, art therapy and mindfulness based interventions. She is often described by clients and colleagues as having a calming presence, even in the midst of chaos. Ali is well-equipped to support her clients through whatever challenges they may be experiencing including issues related to self-esteem, peer and family relationships, anxiety, depression, grief and loss, social skills and life transitions. 
Ali spends her days off exploring running trails, listening to music, reading and spending time with family and friends.