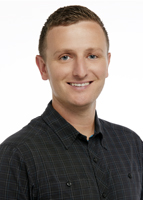 Colin Maslan, ASW (he/him)
Colin Maslan is an Associate Clinical Social Worker who brings a strengths-based approach to working with children, youth, and their families. He knew early on in his previous career as a special education teacher that social work was his calling and is grateful for the opportunity to work closely with families in supporting their children. Colin's interventions are rooted in providing psychoeducation and honoring client self-determination, helping clients to better understand their experiences. He uses Cognitive Behavioral Therapy (CBT) interventions to assist children, youth, and young adults in recognizing the interconnectedness between their thoughts, feelings, and behaviors, which enables them to develop and implement personalized coping strategies to reduce anxiety and depression. Colin has also received training in mindfulness-based interventions aimed at assisting clients in using breathwork and meditation to reduce their stress.
Colin earned his Master's in Social Work from the University of Southern California with a concentration in Youth, Children and Families and his B.A. in Sociology and Criminal Justice from the University of Arizona. Throughout his Master's, he provided mental health services to public school students grades K-12 in Glendale and Irvine both in-person and via Telehealth. Colin has found his training in play therapy particularly useful in fostering therapeutic engagement with younger clients. He has seen first-hand clients developing problem-solving skills and increasing their frustration tolerance during Lego builds. It's no secret that Colin also enjoys Legos!
Prior to starting his Masters, Colin taught special education at Sand Hill School in Palo Alto and Spurwink Services in Maine. He has experience working with youth and young adults with a broad range of diagnoses including Attention Deficit Hyperactivity Disorder (ADHD), Autism Spectrum Disorder (ASD), verbal learning disabilities, anxiety, depression, Oppositional Defiant Disorder (ODD), and Emotional Disturbance (ED). 
In his free time, Colin loves exploring the outdoors with his wife and two dogs. He is an avid mountain biker and cyclist and also enjoys trail running, backpacking, and snowboarding.