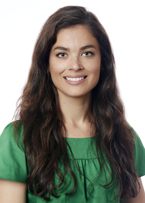 Erin Kalvass, AMFT (she/her)
Erin Kalvass, MA is an Associate Marriage and Family Therapist whose approach is warm, kind, and understanding. Erin operates from an attachment-based lens and incorporates child-centered play, sand tray, and art therapy in her work with children. Erin enjoys being creative with her clients and encourages self-expression through movement, play, and art. In working with teens and young adults, Erin's approach is collaborative, client-centered and incorporates aspects of CBT and mindfulness-based practices to best meet client's individual needs. Erin strives to truly understand her client's world and believes the client is the expert in their own life.
After earning her Bachelor of Arts in Psychology from the University of California, Berkeley, Erin worked extensively with children with developmental disorders including autism spectrum disorder, sensory processing disorder, and attention deficit hyperactivity disorder (ADHD) in a school-based setting. There she gained a foundational understanding of the importance of creating meaningful relationships with children in order to foster connection and growth. Erin then completed her Master of Arts in Clinical Mental Health Counseling from Sonoma State University, during which she provided counseling services to children at a K-8 elementary school, as well as to college-age students. There she gained experience working with children and young adults of all ages dealing with diverse issues such as depression, selective mutism, grief and loss, ADHD, trauma, parental conflict, and gender identity.
Erin utilizes play and art-based therapy modalities, as well as traditional talk therapy, with her clients. She has a passion for working with children, teens, and their families and has experience supporting clients with anxiety, autism spectrum disorder, attention and learning difficulties, as well as self-esteem and body image issues.
In her free time, Erin enjoys hiking with her dog, baking, and being creative.