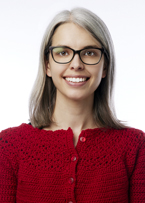 Gail is passionate about helping people navigate life transitions and develop a toolbox of strategies for emotional wellness in every stage of life. She uses warmth, acceptance, authenticity, and a calm presence to connect with adults, children, and teens. Gail focuses on a client's strengths and positive "sparkling" moments to inspire hope and develop a positive vision for the future. Therapy with Gail is a transparent process, and clients and families are full partners in developing goals and creating change. 
Pregnancy and postpartum mental health is a specialty for Gail, and she works with parents experiencing depression, anxiety, OCD, grief, and trauma-related symptoms. She also specializes in working with parents of older children and adolescents on a range of issues from finding ways to manage the stress of parenthood, to helping them find a discipline style that works well for their unique child. Gail works with adults, children and teens experiencing anxiety, depression, grief and loss, OCD, peer conflict, family communication challenges, self-esteem, gender identity and life transitions. She also works with couples to improve communication, negotiate roles, and find a deeper connection through exploration of attachment and love languages.  
Gail uses an integrative approach with Cognitive Behavioral Therapy (CBT) and narrative therapy as the foundation. This approach empowers individuals to find their own voice and actively create the type of life they want to live. It also provides clients with concrete tools they can use to feel better and find lasting benefits. Regulation, attachment, assertiveness, mindfulness, problem solving and developing a plan for long-term wellness are key elements of Gail's work. 
She is a Licensed MFT and received her M.S. in Marriage, Family and Child Counseling from San Francisco State University. This program had a strong emphasis on play therapy, family therapy and multicultural counseling. She received her B.A. in Sociology and Anthropology from the University of Illinois at Urbana-Champaign. Her undergraduate studies continue to inform her work as she strives to provide an accepting and culturally responsive environment for clients.
In her free time she loves spending time outdoors with her husband and two children. She also enjoys cooking, reading and crocheting.