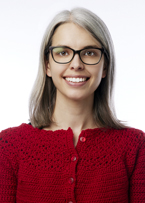 Gail uses warmth, acceptance, authenticity, and a calm presence to connect with children, teens and families.She focuses on a client's strengths and positive "sparkling" moments to inspire hope and develop a positive vision for the future. Therapy with Gail is a transparent process, and clients and families are full partners in developing goals and creating change. She believes engaging parents and other key adults as active partners is essential for ensuring long term well-being for children and adolescents. 
Gail has worked with children, adolescents and families for over sixteen years in a variety of capacities. As a therapist she has provided individual, group and family therapy in outpatient clinics and elementary, middle, and high schools. She has extensive experience supporting children, teens and young adults with anxiety, depression, trauma, grief and loss, social anxiety, social skills, peer conflict, family communication, self-esteem, gender identity, and life transitions.
Gail utilizes an integrative approach with narrative therapy as the foundation. This approach empowers individuals to find their own voice and actively create the type of life they want to live. This framework also lends itself well to the use of evidence-based interventions from Cognitive Behavioral Therapy (CBT), Trauma-focused Cognitive Behavioral Therapy (TF-CBT), and Attachment, Regulation and Competency (ARC) to help clients to build the skills needed to build lasting changes in their lives. Regulation, attachment, social skills, problem solving and developing a plan for long-term wellness are key elements of Gail's work. 
Gail is an Licensed MFT and she received her M.S. in Marriage, Family and Child Counseling from San Francisco State University. This program had a strong emphasis on play therapy, family therapy and multicultural counseling. She received her B.A. in Sociology and Anthropology from the University of Illinois at Urbana-Champaign. Her undergraduate studies continue to inform her work as she strives to provide an accepting and culturally responsive environment for clients.
In her free time she loves spending time outdoors with her husband and two children. She also enjoys cooking, reading and crocheting.