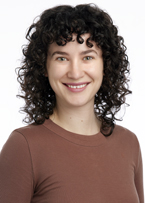 Johanna "Jojo" Hill, APCC
Jojo Hill (she/her) is an Associate Marriage and Family Therapist and an Associate Licensed Professional Clinical Counselor. She centers warmth, humor, and collaboration in her work with clients, supporting them to deepen insight, recognize patterns, and engage their natural resiliency to promote healing. She has a passion for working with children, adolescents, and young adults. 
Jojo has experience supporting clients as they navigate recovery from anxiety, depression, eating disorders, sexual trauma, suicidality, and family transitions. She uses a strengths-based, adaptable, and healing centered approach with a systemic frame which includes CBT, narrative therapy, arts, and mindfulness to create a dynamic and trusting relationship with clients. Jojo believes in the power of the individual and the community to heal from experiences that overwhelm their ability to cope. 
Jojo began her clinical experience in treatment centers supporting teens and adults in their recovery from eating disorders. Later, she worked as a sexual assault crisis counselor providing support and advocacy for adolescent and adult survivors. Afterwards, she received her masters in Counseling Psychology from Wright Institute. While in school, Jojo worked at Compass Family Services, an agency serving unhoused and at-risk families. At Compass, Jojo provided individual and group therapy to children, teens, and adults struggling with anxiety, depression, and grief. 
Most recently, she has worked at Crisis Support Services, an agency operating various crisis lines across California. At CSS, Jojo provided immediate crisis counseling, coordinated with emergency services, and supervised volunteers. Jojo has received specialized training in counseling survivors of sexual assault and rape, and counseling suicidal clients. In her free time, Jojo loves to dance, knit, and spend time with loved ones.