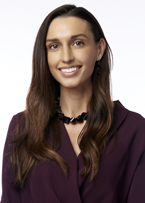 Kate Herrington is an Licensed Clinical Social Worker who brings compassion, humor, insight, and a sincere dedication to her clients.  Kate's practice is grounded in attachment theory, acceptance and commitment therapy, mindfulness- based stress reduction, and interpersonal neurobiology.  With her warm and welcoming nature she creates a safe space for children, teens and adults to explore their concerns.  In collaboration with her clients, she supports them in taking steps toward an improved sense of well-being and a life path that aligns with their deepest values.
Kate received her B.A. in Psychology from the University of Wisconsin, Madison and her Masters in Clinical Social Work from Fordham University.  She has worked with children, adolescents, and adults struggling with depression, anxiety, grief, substance abuse, learning disorders, and behavioral concerns in several outpatient clinics located in Brooklyn, New York.  Most recently she worked at Fraser, a non-profit agency serving children with early developmental concerns and their families.  She supported over 100 children in Fraser's Autism Day Treatment Program utilizing the Early Denver Start Model while working in collaboration with speech and occupational therapists.  Kate also provided therapy and behavioral intervention plans to a number of adolescents, parents, and young children in Fraser's outpatient setting.
Kate has training in utilizing the evidenced based approach, Acceptance and Commitment Therapy (ACT), to treat anxiety disorders, depression, and assist individuals with difficult life transitions.  In addition, Kate has been trained in Mindfulness Based Stress Reduction (MBSR) and often incorporates, breathing exercises, relaxation techniques, and meditation into her therapy practice.  Her training in the Early Denver Start Model and experience utilizing child-centered play therapy also lends to her work with young children.  Kate believes every therapeutic relationship is unique and thus the journey to a more balanced and fulfilling life will also be unique.  Together with her clients, she will support healthier approaches to coping with life's challenges.
Kate enjoys hiking, cooking, camping, traveling, and spending time with her lovely family.