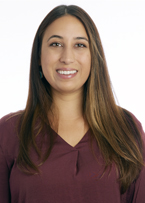 Shalini Phipps, APCC (she/her)
Shalini (Sha-lee-nee) is an Associate Professional Clinical Counselor who approaches her clients from a place of deep compassion, curiosity, and creativity. Utilizing techniques based in solution-focused therapy, strengths-based therapy, art therapy, emotion-focused therapy, mindfulness, and cognitive behavioral therapy, she meets her clients where they are presently. Her warm, direct and collaborative nature sets a strong foundation for the counseling relationship. She is passionate about working alongside the client to help them access the skills needed for deeper self awareness, self empowerment and healing. She is passionate about supporting both youth and adults in reaching their mental health goals. 
After receiving a Bachelors of Arts in Religious Studies from Humboldt State University, Shalini went on to receive a Masters of Science in Clinical Mental Health Counseling from San Francisco State University. She has spent the last three years working with youth in schools in various capacities. Shalini provided individual and group counseling to K-8 age youth, focusing on a range of mental health issues such as social anxiety, adjustment issues, trauma, crisis support, and serious mental health intervention. Her training as a Trauma Focused Cognitive Behavioral Therapist allowed her to work with youth experiencing PTSD symptoms in schools as well. Her training in Mindfulness-based Stress Reduction and Self Compassion inform many aspects of her work with youth experiencing emotional dysregulation, anxiety, and stress. 
Shalini also supported teens in a high school program designed to provide substance abuse intervention. It was through her work as a substance abuse counselor with both teens and adults, that she developed a passion for working with people experiencing difficulty finding healthy ways to cope with mental health symptoms such as anxiety, depression, and stress. Her approach to working with these mental health symptoms is to collaborate with the client on identifying unmet needs, exploring unhelpful cognitions, developing related goals and finding effective coping strategies to ultimately allow a higher level of functioning and happiness. 
She enjoys using narrative therapy and cognitive behavioral techniques to assist the client in developing new ways of thinking and behaving. Shalini has a long standing interest in holistic wellness, neurobiology, yoga, somatics, and meditation which inform her work with her clients as well.