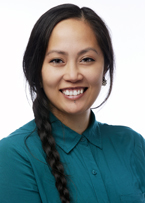 Gellaine (Je-lane) is an Associate Professional Clinical Counselor who centers her work through creativity and authentic connections with her clients.  Using art therapy, play therapy, and a strengths based approach, she encourages clients to use their imaginations and curiosity to explore struggles and concerns.  She is energetic and passionate about working with children, teens, and families.
Gellaine has always valued self-expression and art as a creative outlet.  She provided breakdancing and street art workshops to younger children when she was in high school.  This early experience led her to pursue her education in using art as a tool for healing.  She received her B.A. in Art History and Studio Art from Humboldt State University.  She continued her work there with younger children doing breakdancing workshops.  She also worked in the multi-cultural center and empowered first generation college students.  Next, Gellaine received her Masters in Art Therapy from New York University.  Throughout her program, she was exposed to various therapeutic settings.  She interned as a therapist at a forensic psychiatric hospital, an elementary school for children on the autism spectrum, an outpatient clinic, and a summer camp for children experiencing grief and bereavement.  With such diverse exposure, Gellaine developed extensive clinical skills and learned the value of resiliency with every age group.  
For the last four years, Gellaine was a School Counselor at a preschool in San Francisco.  She supported numerous families through parent coaching, case management, individual and group therapy.  She has experience supporting children, adolescents, and adults with anxiety, trauma, sensory regulation issues, depression, self-esteem, and experiencing homelessness.  Gellaine excels in providing socialization groups to younger children to develop friendship skills and using art incorporated with CBT based mindfulness exercises to foster insight, trust, and appropriate peer interactions.  She has training in art therapy, play therapy, trauma informed care, and mindfulness based techniques.
Gellaine enjoys creating art, movement, gardening, cuddles with her dogs, and quality time with family.